Tea lovers and enthusiasts know that certain tea leaves taste better when brewed at a lower temperature other than boiling. For example, green tea tastes incredibly bitter when brewed at a high temperature and can spoil the taste along with its potential beneficial properties.
The Adagio Teas 3 Utilitea Variable Temperature 30-Ounce Electric Kettle has a number of key features that make drinking tea a more pleasurable experience – it can take the hassle out of either waiting for the water to cool down or estimate when to switch the kettle off before boiling point. And for those limited on space, the 30 ounce (0.8 litre) capacity makes it ideal for students living in dormitories, office workers and travellers.
PRODUCT DESCRIPTION
* Electric stainless-steel with innovative temperature control feature.
* It works by having 2 main temperature settings – 180°F /82°C for green tea and 212°C/ 100°C (boiling point) for black, herbal and dark oolong teas. It can also be adjusted to a lower temperature for white and light-coloured oolong teas.
PRODUCT FEATURES
* Quickly heats up to 30oz (0.8 litre) of water.
* Concealed heating element.
* Cordless carafe.
* Water Level gauge.
* Power indicator light.
* Flip-top lid
* 1500 watts
* Measures approx 8½" – 6⅘" – 9½".
* 360° base.
   THE GOOD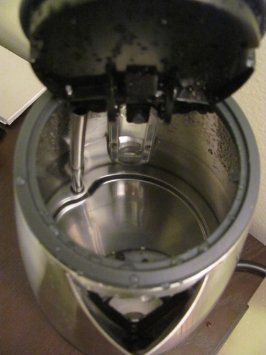 * Time – heats quickly – ranges from 2½-3 minutes for half a pot; 3½-5 minutes for a full pot; 1½ minutes for minimum level (10 oz).
* Space – takes up minimal space – great for office desktops, student dormitories, small kitchens, caravan or campervan owners.
* Safety – automatic shut-off when desired temperature is reached and heat is maintained after switching off.
* Energy Efficient – no need to boil every time so you can save a bit on your energy bills!
* Convenience – cordless for convenient brewing.
– 360° base so there's no need to realign when finished.
– long cord so great for those who have plug sockets near the cooker!
* Design – built in strainer in the spout so you can brew your leaves in the kettle.
– lightweight and portable so great for travellers.
–  has a durable and sturdy design and its stainless- steel finish gives it a modern-classy look.
* Price – its cheaper compared to other temperature-controlled kettles.
* Amazon Rating – 4½ out of 5.
   THE BAD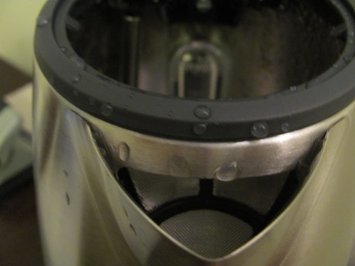 * Indicator – no numerical indicator  so makes it hard to estimate temperatures lower than 180°F /82°C. The 2 main indicators are coloured orange and green and could cause problems for those that are colour-blind.
* Water level gauge – is situated behind the handle and makes it hard to see how much you put in unless held in a certain angle. No indication on how many cups you are boiling – only has Min and Max levels.
* Cleaning – the flip-lid only opens to around 45° so makes it tricky to clean the filter if you decide to brew leaves in it. Because of this, it can be hard to fill with water if not directly from a tap, for example, using a water cooler in an office or a water dispenser filter from a fridge.
* On/Off lever – made from plastic that gives it a 'flimsy' feel to it. It protrudes out near the bottom of the handle, so care should be taken when releasing the hand in a downward motion  as it could hit the lever and damage it.
***Click here to read more customer reviews***
AND THE SUMMARY

I give Adagio Teas 3 UtiliTEA Variable-Temperature 30-Ounce Electric Kettle a 'thumbs-up' and would recommend it to anyone living in minimal space and on a low budget, yet still want great tasting teas.
* Being one of the smallest variable temperature kettles on the market, it is perfect for those limited on space.- not so for the family of four! Due to its size, one of the main features of the product, is it does heat up more quickly and efficiently than most traditional kettles.
* Although it lacks any loud audible indication like a whistle, beep or bell- it will make a 'click' sound when done and has a power light indicator.
* Works better for green, black and herbal teas – not so much for the in-between teas like white and light-colored oolong, as no precise numerical temperature indicator.
* Coffee lovers alert! – works well with French press coffees.
* Being the cheapest on the market – it's ideal for those on a low budget.
* The concealed heating element makes it harder for limescale to build up than on a coil that is visible.
WHERE TO BUY
>>>Order from Amazon and get free shipping (US addresses only). 
£20 shipping & import fee for UK addresses<<<
Adagio Teas 3 Utilitea Variable Temperature Electric Kettle Review
was last modified:
January 4th, 2018
by