***The following recipes use dried herbs. If using fresh herbs then double the quantity.***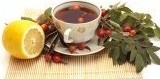 Green Tea With Cardamon
INGREDIENTS
2 teaspoon Green Tea Leaves

3  or 4 Cardamon pods

6oz hot water
PREPARATION
Place leaves and pods in a heat proof container. Pour hot water over herbs and steep for 5 minutes. Strain and add honey or sugar to sweeten and serve hot. Drink 2 to 3 cups daily.
****************************************************************************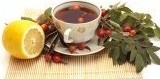 Lemon & Ginger Weight Loss Tea
This recipe can make approximately 6 servings and you can refrigerate the leftovers for up to 3 days. Can be drunk hot or cold.
INGREDIENTS
8 teaspoon Green Tea Leaves

8 Lemon Peel strips (2 ½ x 1-inch each)

11 inch piece of Ginger Root , thinly sliced

6 cups water

Lemon slices for garnish (optional)
PREPARATION
Combine the Ginger, Lemon Peel strips and water in a large pan. Bring mixture to a boil. Reduce heat to low and simmer, uncovered, for 10 minutes. Remove the ingredients and discard. Place the Green Tea Leaves into a heat proof container and pour simmering water mixture over them. Cover and steep for 3-5 minutes. Serve immediately and garnish with lemon, if desired. Add honey or sugar to sweeten.
****************************************************************************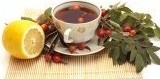 Weight Loss Herbal Tea
INGREDIENTS
1 teaspoon Green Tea Leaves

½ inch Cinnamon bark

½ inch Ginger Slice

1 Lemon slice

1 glass water
PREPARATION
Place water in a ceramic pot over a low heat until bubbles form (do not boil water!). Pour hot water over ingredients in a mug. Steep for 2-3 minutes or longer if desired.
Recipe source from Khana Pakana
**CAUTION** 
Effective results from drinking herbal teas for weight loss can only be achieved with additional regular exercise and a balanced diet. Green Tea contains caffeine so those who are expecting or are nursing mothers should limit their intake.
————————————————————————————————————————
This website is for educational and informational purposes only. The publisher/owner of blendingherbaltea.com is not legally liable for your use of the information which is not intended to diagnose, treat, cure or prevent any disease. If you have any serious health concerns, you should always check with your health care practitioner or medical herbalist before self-administering herbs.
Blending Herbal Tea: For Weight Loss
was last modified:
March 5th, 2018
by