It is my humble belief that every household should have a first aid herbal kit handy for treating minor injuries or ailments or even provide short-term treatment before professional care is available.
In this post, I will explore the benefits of herbal first aid and 12 essential herbs for the home that can speed up and help minor injuries such as cuts, bruises, bites and burns.
In a domestic emergency, most of us are inclined to reach for conventional medicines such as antiseptics or painkillers than herbal medicines. Yet, when properly administered, herbs can be just as effective as and sometimes more effective than their pharmaceutical cousins when applied in first aid.

The Principles Of Herbal Home Treatment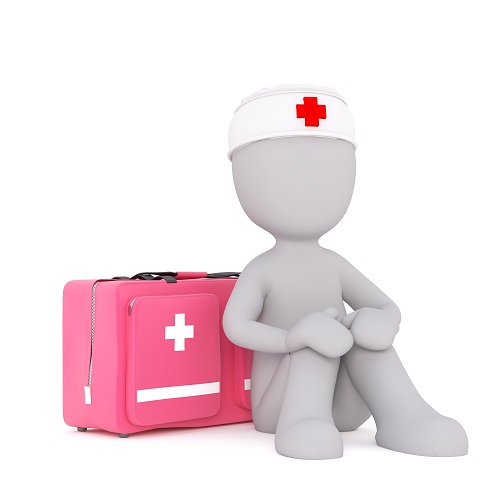 When using herbal treatment at home, it is necessary to follow some important guidelines:
ACT immediately when someone is injured.

UNDERSTAND the reasons for a specific herbal medicine being used and what outcomes to expect.

CHOOSE the most suitable method, for example – Tea; Tincture; Tablet; Ointment; Oil; Compress; Wash.

MONITOR the effect of the treatment – keep notes so that you can provide as much info as possible if you need to seek professional help.

BE PATIENT and be prepared to continue the treatment for longer if necessary.

SERIOUSNESS – if the condition is serious, for example – breaks or falls resulting in back/neck injury or if the condition suddenly changes or worsens – ALWAYS seek professional medical help.

STAY CALM – this will help the injured person in the long term! Panicking will just exacerbate the situation and create more unnecessary negative energy.
Herbal Medicine In The Home
The beauty and purpose of herbal home treatment is to:
Help support the body.

Promote recovery.

Lessen the discomfort of minor injuries/conditions to the wounded person.
A first aid herbal kit in the home is incredibly useful for when waiting for professional assistance. When deciding on what products to stock, you should consider the needs of you and your family. What are the common problems you or they experience?
12 Essential Herbs For The Home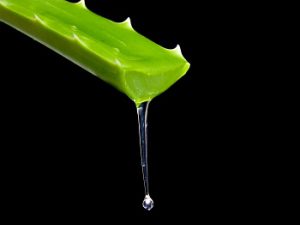 1. Aloe Vera (Aloe barbadensis)
Due to its antiseptic and anti-inflammatory properties, the gel is an excellent first-aid remedy for minor burns, scalds, sunburns and skin abrasions.
Fresh gel from a cut leaf can be kept in the fridge too as its soothing properties coat the skin, cools it and protects it. It can also help ease any pain and swelling, help repair damaged cells and help prevent scarring.
2. Arnica(Arnica montana)
The topical use of Arnica for bruises is instantly satisfying. When applied immediately after a bump or bruise, it can decrease swelling in moments due to its anti-inflammatory and analgesic actions. It can also help relieve chilblains, sprains and rheumatic pain.
CAUTION – should only be used externally (and if the skin is not broken) as it is toxic it taken internally (except in Homeopathy).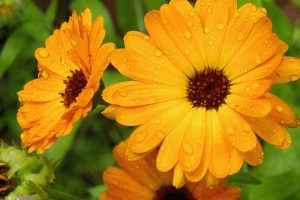 3. Marigold a.k.a Pot Marigold (Calendula officinalis)
Marigold possess antiseptic and antimicrobial actions that can help to heal wounds. Used externally, it can also help relieve infections, dry eczema, cuts, grazes and sores.
Its astringent action can help stop bleeding from cuts and its anti-inflammatory actions can be used to soothe minor burns, scalds and inflammation.
Used as a wash, it makes for a potent skin wash to tough skin eruptions such as measles and chicken pox in order to dry and heal them.
4. Clove (Syzygium aromaticum)
Clove oil has powerful antiseptic and mild aesthetic properties and is usually used externally in the treatment of toothache. The oil is also good for cuts and skin conditions such as acne, rashes and blemishes. It can also be used to alleviate nausea, vomiting and gas.
5. Ginger (Zingiber officinalis)
Crystallized Ginger is particularly useful for motion sickness, morning sickness, car sickness and nausea due to its anti-emetic properties. It is also an excellent remedy for fever, colds and chills.
As a stimulant, it helps to stimulate the circulation and as a diaphoretic, it will bring out a good sweat. Perfect to rid a cold or fever quickly.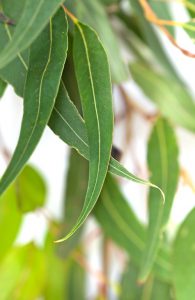 6. Eucalyptus (Eucalyptus globulus)
In its native Australia and Tasmania surroundings, it is known as The Fever Tree, because it is a powerful antimicrobial and bacteria fighter wherever it grows.
Eucalyptus also contains powerful antiseptic actions and can provide relief from colds, coughs and respiratory infections.
It has been used as a steam inhalant for chest congestion. Steam from the plant has been used to kill bacteria and microbes and to clean the air in sickrooms.
7. St John's Wort (Hypericum perforatum)
The infused oil will help heal minor burns and sunburn thanks to its anti-inflammatory and analgesic properties. However, once applied to the skin, it SHOULD NOT be re-exposed to sunlight again as this can intensify the burn.
The oil can help to relax muscles, reduce inflammation and ease pains in the nerves for neuralgia and neuritis.
Its anti-inflammatory properties can be beneficial as a wash on wounds, skin sores, bruises and varicose veins.
8. Slippery Elm (Ulmus fulva; Ulmus rubra)
The bark of Slippery Elm is considered one of the best poultices to soothe inflammation; draw out splinters and impurities from the skin; speed up healing and restore the tissue's integrity due to its emollient and vulnerary properties.
Its demulcent actions makes it an important ingredient in many cough formulas, and when combined with powdered Ginger and Liquorice, it makes excellent lozenges.
9. Lavender (Lavandula officinale; Lavandula angustifolia)
Thanks to its anti-inflammatory properties, Lavender oil is the only oil that can be used neat on the skin to take the pain out of stings, minor burns, scalds and sunburn.
Used in a tea, it is an antiseptic that can be used as a healing wash for wounds. Like Aloe Vera, it is an excellent herb to use to ease any pain and swelling; to help repair damaged cells; to prevent scarring, plus it can help to deter infection.
Lavender's sedative and relaxant properties can be used to promote and soothe natural sleep, relieve tension headaches and migraines and calm frayed nerves and anxiety. This has to be one of my favourites as it's so useful when dealing with a child!
10. Tea Tree (Melaleuca alternifolia)
Tea Tree oil's antiseptic, antibacterial and anti-inflammatory actions are useful for cleansing wounds, cuts, sores and abrasions. It is also useful for acne, head lice, cold sores, sunburn and insect bites.
11. Witch Hazel (Hamamelis virginiana)
Witch Hazel can be used to aid the healing of minor burns, sunburn and insect bites due to its anti-inflammatory and vulnerary actions. Cuts can be washed with it to help cleanse them and soaking a swab in Witch Hazel can help stop the flow of blood (externally and internally) as it contains astringent properties.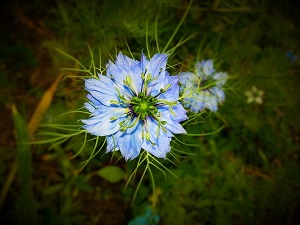 12. Black Seed Oil  (Nigella sativa)
Black Seed Oil has been hailed by some as "a true panacea", "a universal healer" and "a miracle herb". It's been prized for centuries by ancient cultures for the treatment of a wide range of ailments.
It's excellent for calming minor burns, insect bites, stings, bruises and bumps. Some of its actions include anti-bacterial; anti-fungal; analgesic; anti-microbial; anti-inflammatory and diuretic to name a few.

Other Important Items To Include In Your Kit
Plasters

Bandages (assorted sizes)

Tweezers

Latex gloves

Thermometer

Scissors

Cotton balls/swabs

Adhesive tape

Eye bath

Green clay

(makes an excellent poultice for drawing out abscesses and stings)

Finger splint
Traditions of Herbal Healing
Herbal traditions have been passed down from one generation to the next. This is because they are so effective and easy to obtain and prepare.
Herbal medicines are not only prescribed for illnesses – they are well suited for first aid and other purposes at home. In fact, for centuries, up to the discovery of penicillin (1928) and the formation of the NHS (National Health Service -1948), the traditional way to treat situations requiring immediate attention was the use of herbal medicine.
Do you have a first aid herbal kit for the home? Have you used any of the herbs mentioned above at home? If so, what did you use? Did it help? I'd love to hear your comments and thoughts. Thanks for reading and if you found the post useful, please share! Peace be with you.
Teresa
First Aid Herbal Kit – 12 Essential Herbs For The Home
was last modified:
May 15th, 2022
by
Summary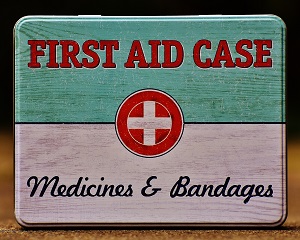 Article Name
Description
12 Essential Herbs For The Home - Discover the 12 essential herbs for the first aid herbal kit including guidelines in using these herbs for home treatment.
Author
Publisher Name
Publisher Logo