Is the future of brewing here? – imagine being able to boil the kettle in the mornings from the comfort of your warm and cosy bed and having the water ready just how you like it when you get downstairs.
Or maybe have the water boiled to your desired temperature, kept warm and ready for you when you get home late from work. All this at a touch of a button or a simple voice command – with ZERO waiting time.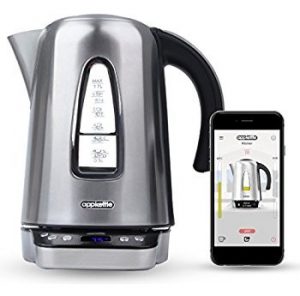 Introducing the AppKettle.
In this comprehensive AppKettle Review – The Smart Kettle With Vision, I will discuss:
What it does?

How it works?

How well it works?

My thoughts on the AppKettle

Who would benefit from this?

Safety issues

The Good

The Bad

And The Summary

Where to Buy Online?
Hopefully, by the end of this review, you should have a good idea as to whether the AppKettle is right for you.
Developed in the UK, AppKettle claims to be "The World's Smartest Kettle"; "The World's Most Advanced and Useful Electric Kettle" and "One Of The Most Energy Efficient Kettles Available".
The makers created it to be "Convenient"; "Time-saving"; "Useful"; "Beautiful" and "Simple for Everyone".  Now, these are pretty big and bold claims – But is there any truth to them? Amazon reviewers have rated it 4/5 stars, customer reviews on the AppKettle website have rated it 5/5 stars – so what makes this product so great?
What the AppKettle Does?
In a nutshell, it's an electric kettle – that works with an App, allowing real-time monitoring and control.
It allows you to boil a pre-filled kettle to a pre-set temperature and a pre-set time – from any mobile device at a touch of a button or a simple voice-command (if you have Amazon Echo) – from the comfort of your bed, sofa, office or anywhere where you have internet connection.
Or, if you're old school like me – there are manual buttons to turn on and use via the Base, so you don't need to use your device every time you need a cuppa.
In doing so, it saves you time and money – both much needed commodities in this day and age.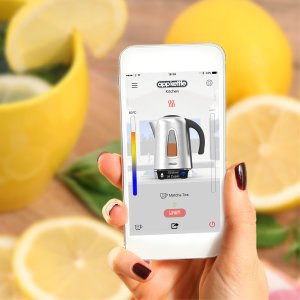 Once you've plugged the kettle in with its Base and downloaded the App (available FREE on iOS and Google Play), there are plenty of features you can play around with.
– Adjust Temperature & Brew Time feature for your favourite drinks. One of the best features of this product.
Fine-tuning your drinks and having them at the right drinking temperature helps to remove any potential impurities within the water and can actually improve and maximise the taste and flavour.
If you love your green teas like me, you'll know how bitter it tastes when you boil and brew too long!
– Favourites and Scheduling feature– Having fun and playing around with the many App features will definitely use up a certain amount of your time – so the makers have created this feature to give you more time on your hands.
Store your favourites for each person and schedule for the same time every week, or whenever you choose (although not able to do multi same-day schedules yet).
– Keep Warm feature – Running late from work or taking longer walking the dog? No worries – AppKettle has this smart function that keeps the water at your desired temperature for up to 30 minutes. No more wasteful energy of reheating water.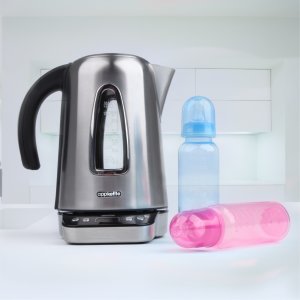 – Energy/Cost feature – this really cool feature allows you to keep track and monitor how much energy the kettle is using.
If you know your price per kWh, then it can work out the cost of use and how much each person (who uses the App) has used too. All this is based on how much water you put in; the temperature you boil to and the Keep Warm function.
Pretty smart and convenient, I must admit.
– Baby Bottle feature – Yes, AppKettle really likes convenience – so they even developed this function which allows parents to prepare their baby milk formula with ease.
Having set the time to when you want the water boiled, it will cool it back down (to 70℃) and keep it warm until you're ready to use. Very useful and time efficient for any newbie parents wanting that extra snooze!
– Social Share feature – Make brewing even more fun by sending a customisable message round for a brew. Great if you work in an office; flat-share or have a big family.
– Reminder feature – Oh, just don't forget to fill it up!
How Appkettle Works?
One of AppKettle's goals is turning one of life's everyday routines and hoping to made it easier and simpler – No more waiting for the kettle to boil. No more squabbling to put the kettle on when the break comes on from your favourite TV show. No more bitter tasting tea for all you tea connoisseurs.
The Appkettle quite literally wants you to save time, money and adapt to new energy-saving habits. In a fast-paced and environmentally challenging society we're living in, this is vision that it hopes to succeed in.
Plus, it wants you to have fun too whilst doing the age old tradition of boiling water – something that has expanded through many generations and cultures, all over the world for thousands of years. 
General Specifications
CAPACITY – 1.7L / 57.5 US oz
POWER – 2-2.4kW (UK/EU)
WATTAGE – 220-240v / 50-60Hz
WEIGHT – 2.7kg
CONSTRUCTION – Brushed Stainless Steel; Chrome; Gloss PP; Glass
DIMENSIONS – 24cm x 32cm x 20cm
WATER WINDOWS (in L and Cups) – Yes on both sides
WIDE SPOUT – Yes (for smooth pouring)
BOIL DRY PROTECTION – Yes
LIMESCALE FILTER – Yes (Stainless Steel / removable)
ELEMENT – Concealed (reducing the build-up of limescale)
VOLUME SENSOR – Yes – (in App)
TEMPERATURE SELECTION – Yes – (on Base and in App (between 60℃-100℃)
CORD STORAGE – Yes
KEEP WARM – Yes – up to 30mins
TEMPERATURE UNITS – ℃ and °F (on Base and in App)
BREW TIMER – Yes (between 1-7mins/ will receive mobile notification to say it's done)
WORKS WITH ALEXA  – Appkettle works with Alexa (Amazon's A.I voice control system) so you can link your Amazon Echo products with Appkettle's Alexa voice skill.
Once you've downloaded the Alexa App, you can ask Alexa to switch on or off. Quite limited, but still pretty cool.
WORKS WITH IFTTT    – You can link your Appkettle favourites; Keep Warm and heating preferences with hundreds of smart home products and services.
Once you've downloaded the IFTTT App and signed up for a free account, you can turn on Applets that help your apps work together to do specific things they couldn't do otherwise. For example, you can set your light bulbs to flash subtlety a few times when the Appkettle is boiled (if you have the Philips Hue Applet).
Of course, the science behind this product seems impressive, but does it actually work as advertised?
HOW WELL DOES IT WORK?
I did tons of research to find out why this product is considered so great. Apart from the hours of fun using this gadget, there were many different aspects that the AppKettle excelled in – and this is what I discovered:
* Ease of Set-up – within 5 minutes, you can download the App, set it up on your home WiFi network, input the pass key, pair your device and kettle, fill up kettle and get ready to boil.
Although, one of the main problems users encountered here was connection issues with Alexa and WiFi and some problems registering the App – these were, however, quickly and competently resolved by the Customer Service/Technical Support team.
* Easy-to-Use App – this is regardless of your experience with apps and technology. The intuitive App with its clear graphics has lots of features and personalised options. You can even name your kettle!
Many features of the App proved to be incredibly useful and convenient and some users have even commented on how they couldn't manage without it! Just by saving 2-3 minutes of boiling the kettle before you get out of bed or before you get home really made a huge difference and made life so much easier.
* Smart Performance Features on App – the amount of smart features available to use and their capabilities were considered by some, "a God-Send" and "a Life-Saver".
Just being able to remotely boil the kettle whilst in bed or in the car simplified life. There is a feature for everyone. "The designers have really put a lot of thought into the detail of this – both hardware and software are implemented well."
Well, it has been in development for an impressive 5 years.
* Energy Efficiency Feature – this is the hidden gem and considered the most useful feature. Generally, kettles are one of the most power-hungry appliances in the home. Being able to see the temperature on both the App and Base saves energy and prevents wasteful re-heating.
The 2.0-2.5kW AppKettle has a standby mode that adheres to the new European Energy Standard for smart appliances. This ensures that consumption is below 2W.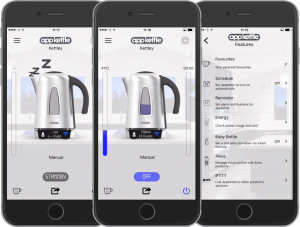 * Quick To Boil – one lovely Amazon reviewer took the time to record how long the kettle boiled with different amounts of water in the kettle and at different temperatures.
BOIL TIME    – 1.7L (max) to 100℃ = 4 mins 42 secs
                      – 0.5L (min) to 100℃ = 1 min 35 secs
                     – 1.7L (max) to 70℃ (green tea) = 2 mins 52 secs.
My current conventional kettle (which is 4 years old) takes 1 min and 52 secs to boil fully with 0.5L(min) of water. Not too much of a difference it seems, but the whole point is that you don't have to wait!
It's considered relatively quiet whilst boiling too – although I doubt it would be an issue if it was loud as mostly it would be boiled remotely and not being in the same room as the kettle. It beeps 3 times to say it's done which some found quite annoying. It can't be switched off either as this is due to a safety requirement. But I suppose it is helpful to those that are hard of hearing.
* Easy to Fill and Pour – the wide spout allowed for smooth pouring and thanks to its removable lid, filling up is made easier. However, the 'removable' lid was a major concern to some as it left you exposed to steam when refilling after boiling.
Plus, some parts of the lid became extremely hot, so there was a risk of burning yourself if you're not careful. Suggestions were made for a hinged lid with a 'push' button release. Hopefully, it's something the designers will consider for the future.
MY THOUGHTS ON THE APPKETTLE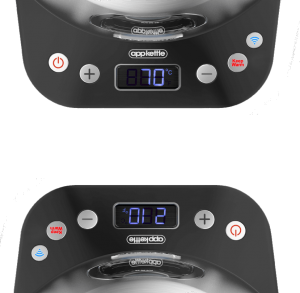 Personally, I find smart products in the home quite invasive. It's like a phantom in your home doing tasks that you should be doing. Yes, I understand gadgets and especially smart gadgets are designed to make life easier, but sometimes I do wonder how lazy will we become in the pursuit of this passion?
The other downside I find in smart products are the potential health risks. The radiation levels emitted from them really puts me off. I always switch off my blue-tooth and WiFi on my phone for this reason alone. And the phone is the only smart product I own.
Yet, I'm strangely enticed by this product – it's sheer simplicity and potential over-rides my senses. I generally use the kettle around 6-7 times a day (as I prefer hot drinks over cold drinks especially at this time of year) – and countless times I wished I was able to have the kettle boiled and ready when I got home or came downstairs.
Not only that, being a big fan of teas and herbal teas, my drinks will embrace the right temperature of water and release their full beneficial potential!

WHO WOULD BENEFIT FROM THIS?
Who wouldn't? – Seriously, many different people from all walks of life would benefit from this:
Gadget Geeks/ Smart Tech Freaks

Tea connoisseurs

/ Hot drinks lovers

Energy-conscious folk

Newbie parents using formula milk

Families

Small businesses

Those that have impaired hearing

Right and left-handed persons in all of the above categories (thanks to its world's first double glass windows)

SAFETY ISSUES
With any smart remote functionality, safety will be a major priority. From the beginning, this was a fundamental concept and concern for the designers.
The hardware and software prevents the kettle from being turned on accidentally. It has a Boil Dry Protection feature and will not turn on if the kettle is below the minimum level of 250ML of water (1 x cup) or above the maximum level (1.7L).
AppKettle has 128-bit AES security to prevent unauthorised connections via the internet. Plus, it has WPA/WPA2 Security.
The kettle has been designed with health-conscious materials with minimal plastics. The spout-filter (which is BPA-free) is the only part of the kettle where boiling water comes into contact with plastic.
It comes with a brushed stainless steel design with the world's first double glass windows. Most stainless steel kettles have plastic water windows, or no window at all.
THE GOOD
Making Life Easier by Saving Time – People loved the fact that you could boil water remotely from a device, saving precious time, morning or night. Saving money was a bonus!
So easy to set-up and use – it seemed effortless with such a high-end and high-tech gadget. The easy to navigate software, with its animated water to show the heating process, makes it fun and simple to use.
The Quality Design –  "Elegant; "Stylish"; "Robust and sturdy"; "Felt like a premium kettle" and "The build quality and convenience justifies the price". Enough said. The comfy handle is of a good length and grip too making it easy to pour even when full.
Customer Service and Technical Support – these guys proved to be incredibly responsive and quick. Many of the issues surrounding WiFi and Alexa connections were dealt with promptly, some even over the Xmas period. "Legendary customer service"; "Unreal customer service"; "Went out of their way". Because of their speedy resolution, many highly recommended the company and "Wouldn't hesitate to use the company again".

THE BAD
Connection Issues with WiFi and Alexa – this was the main drawback. I mean, the whole point of the AppKettle is that it works with internet connection (although it'll still work with the manual buttons on the Base, but that's besides the point). Having said that, many of the issues here were dealt with competently and swiftly by the customer service and technical support team.
The Lid – this was a big concern as it is fully removable rather than hinged, which leaves you exposed to steam when refilling after it has boiled. Also, the lid does heat up and becomes extremely hot so there is a risk of burning if you're not careful.
AND THE SUMMARY
It seems obvious that this is no ordinary kettle. It does way more than just boil water. Yes, it's a bit pricey – £129.99 to be precise – but when looking at products of a similar range, you would expect to pay roughly £100 for WiFi functionality alone. Add the cool design and smart concept, AppKettle offers more than just a kitchen necessity.
It releases and maximises a kettles full potential to just boiling water.
Turning one of life's every day routines and making it simpler and easier is a feat that most designers and engineers strive for. Finding a product that works for you is a challenge in itself.

If your're searching for convenience, control and looking to reduce your carbon footprint, then I highly recommend this product.
It'll make a great addition to anyone pursuing the smart automated home and the brazen feeling of smugness when saying "Alexa, turn on my AppKettle."
If you're a tea lover and enthusiast, then you'll know certain tea leaves taste better when brewed at a lower temperature other than boiling. The AppKettle takes the hassle out of waiting for the water to cool down or guessing when to switch off before boiling point. No more burnt leaves!
The smart vision of future brewing is here – sure it doesn't actually make the drink and bring it to you with some chocolate biscuits and a hug – but this is the beginnings of a new chapter for brew-making.
I give this product a definite thumbs up!  – 4/5.
WHERE TO BUY ONLINE?

I hope you enjoyed the review. If you have any questions or comments about the Appkettle, please leave them below. Peace be with you and happy brewing!
Teresa
AppKettle Review – The Kettle With Smart Vision
was last modified:
May 11th, 2022
by
Summary
Reviewer
Review Date
Reviewed Item
Author Rating





Product Name
Price
Product Availability