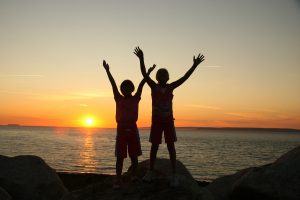 The physical foundation of health is an immune system that functions efficiently and smoothly. This is essential for a robust and healthy child who will be able to resist infections, allergies or any other external conditions – and who will get the most out of life without being hindered by illness.
In this post, I will be discussing how to boost kids immune system naturally with 6 amazing herbs that are safe and ideal for them.
With the cold spells and dark nights drawing upon us, all manner of cold and flu symptoms are rampant especially if your little one is in nursery/school environment. Let's face it, kids bugs spread like wild fire! Prevention is key, so now is the best time to treat their immune system naturally and using herbs is a great way to build immunity and resistance.
Immunity and resistance building will go a long way in preparing the body for illnesses that could cause problems later in your child's life. Herbs can harness the body's natural ability to heal – working along with the immune system, they gently help the body to recover and heal.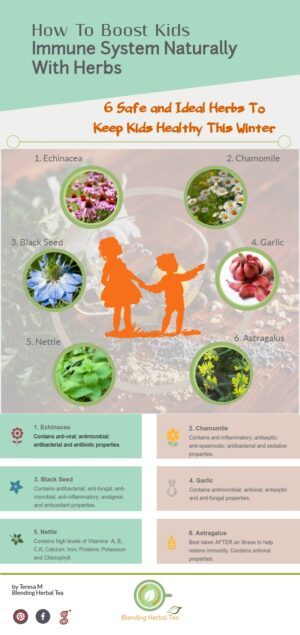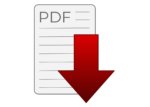 Immunity – In A Nutshell
Every minute of every day, our kids are exposed to millions of germs and disease-producing organisms – bacteria, viruses, fungi and allergens that exist within our environment. Right from birth, they inherit strategies to deal with them, and collectively, this is called the immune system.
This extraordinary piece of engineering is a complex maze of interconnecting systems, organs and cells, often described as an army. They work to fight and protect your child's body from invaders that don't belong there.
Poor diet and nutritional deficiencies; artificial ingredients in foods/drinks; pollution; numerous vaccinations; lack of breastfeeding; repeated use of antibiotics and other medications in the early years and stress can all cause the immune system to be overloaded and weakened.
How It Works?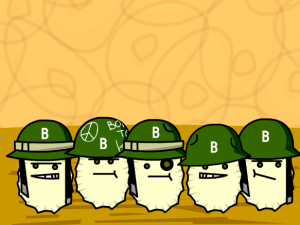 To prevent germs from entering your child's body, they have an incredible amount of other intricate mechanisms that form the "first line of defence".
Skin – the largest organ of the body and a very effective barrier against bacteria. It contains high amounts of unsaturated fatty acids which are known to kill bacteria. Also, sweat contains salt which is another protective factor.

Eyes – tears are antiseptic and contains large amounts of lysozyme, a substance that destroys bacteria.
Nose – contains sticky mucus and tiny hairs to trap organisms – sneezing gets rid of them by force.
Mouth – saliva is antiseptic.
Stomach – hydrochloric acid kills off germs that are swallowed.
Gut – friendly bacteria prevent unwanted intruders and the bowels expels them and toxins too.
Bladder – flushes out organisms and toxins through urine and helps to prevent urinary infections.
Chest – contains mucus and hairs that trap organisms and pollutants and prevents them invading the lungs – coughing gets rid of them by force.
If the invaders do get through this complex first line of defence, then the immune system army kicks in to form the "second line of defence" – at a cellular level.
Why Use Herbal Medicine?
Immunity is built over a period of time. From a young age, a child's body can become more resistant to infections if they use herbs. Plus, their immune system will become more stronger as these herbs will provide them with much-needed vitamins, minerals and other nourishing and strengthening substances.
Not only do herbs have lower side effects when compared to conventional drugs, they also tend to be less potent than drugs; they cost less than drugs used for the same problem and they work to treat and balance the whole body – while drugs treat only one specific problem.
Some herbs are particularly beneficial in building a child's immunity, resistance and strength and these are outlined below.
6 Amazing Immunity-Building Herbs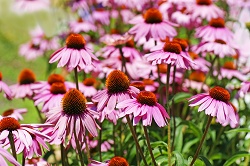 1. Echinacea – one of the best remedies to help the body rid itself of microbial infections. It's ideal for kids continually suffering from ear infections, colds and other minor infections due to its antiviral and antibacterial properties. It is well documented and researched and is considered very safe to use, including for children.
Taken internally, it is effective against viral and bacterial attacks as it boosts the immune system and increases bodily resistance to infection. It is known to decrease the duration of colds; reduces inflammation both internally and externally and enhances overall resistance to illness.
Echinacea also acts as a blood purifier – it helps in cleansing the blood and lymphatic system and activates white blood cells and antibodies, which are essential for fighting infections.
2. Chamomile – considered one of the safest plants to use in herbal medicine, especially for children. It's incredibly versatile and an all-time favourite when it comes to calming anxiety and soothing irritability due to its gentle sedative properties.
It also contains anti-inflammatory and antispasmodic actions which can help relieve tension and inflammation in the digestive tract making it ideal for pain and colic and also constipation and diarrhoea.
Chamomile's antibacterial and antiseptic nature can ease colds, flus, aches and pains and other symptoms related with infection or allergy, including eczema.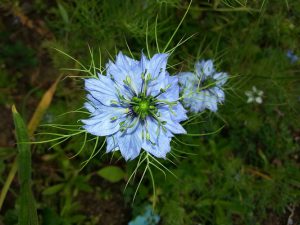 3. Black Seed – this little unknown plant is slowly gaining popularity in the West due to its treatment for a wide range of ailments. There is no other herb known to work with such a wide range of healing capabilities and it has been prized for centuries by ancient cultures of the Middle East, Africa and parts of Asia.
Packed full of vitamins, minerals and other active compounds including Vitamins B1, B2, B3; 15 Amino Acids; Nigellon; Selenium; Calcium; Iron; Potassium and 26 Fatty Acids to name a few.
Some of the powerful actions include antibacterial; anti-fungal; antioxidant; antimicrobial; analgesic and anti-inflammatory. A powerhouse of immune-boosting goodness – ideal for kids who get ill regularly.
The Black Seed and the oil derived from it is considered safe to take every day as a home remedy for promoting good health and preventing disease, yet powerful enough to treat almost all chronic diseases that are so prevalent in society today.

4. Garlic – another one of nature's effective antimicrobial plants. Historically, it has long been used as a medicinal herb due to its antiviral, antiseptic, anti-fungal and also its immuno-stimulating actions. The volatile oil is an effective agent and it is largely excreted via the lungs and is useful for respiratory infections, such as chronic bronchitis, catarrh, colds and influenza.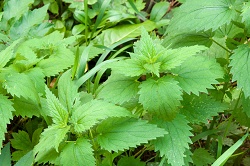 5. Nettle – another great herb considered safe for kids, as it is one of the most widely applicable plants available to us. It is considered a tonic that helps restore, nourish, strengthen and support the whole body. Definitely one of my all time favourites.
It is highly nutritive due to its abundant vitamins and minerals content which makes it an ideal immune booster for any time of the year. Calcium; Iron; Vitamins A, B, C, K; Proteins; Potassium and Chlorophyll are just some of the many attributes of this humble weed.
6. Astragalus – best to be taken after an illness to help restore immunity. It is used to increase resistance and improve the immune system by producing an antiviral agent called INTERFERON – this stimulates the production of natural antibodies and raises the white blood cell activity to help fight infection.
In Traditional Chinese Medicine, it is known as Huang Qi and it is commonly used for nourishing the immune system; strengthening weak digestion and treating chronically weak lungs.
Astragalus is used to improve resistance to infections, especially those of the Respiratory System, as well as to reduce a tendency to recurrent illness and allergies.
Is This All I Need To Do To Boost My Kids Immune System?
In short – No. Herbs are a great way to provide the body with vitamins, minerals and other nourishing and strengthening substances, that in return, can build and strengthen the immune system.
A good balanced and organic diet – free from processed sugars, fats, flours and oils; regular exercise; good emotional health; adequate rest and a relatively low-stress lifestyle are also needed to keep our kids (and yours) immune system in top-notch health.
We live in an age of high-tech gadgets and gizmos that can also have a startling impact on our kids immune system, due to the large amounts of radiation emitted from them. Cutting down on usage and getting plenty of fresh air will also help them gain a healthier and stronger immune system.
Have you used any of the herbs mentioned to treat your kids immune system? If so, which ones? Did you find it effective? Have you used other different herbs not mentioned here? I would love to hear your thought and comments on this. Thanks for reading.
Teresa
How To Boost Kids Immune System Naturally With Herbs
was last modified:
June 10th, 2022
by
Summary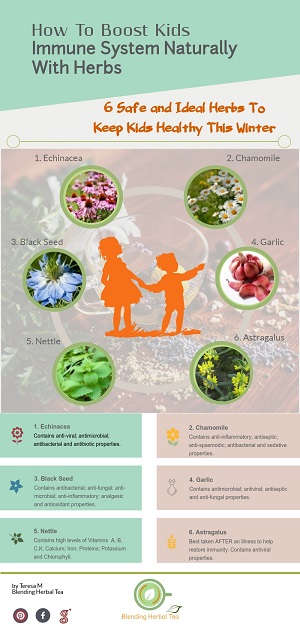 Article Name
How To Boost Kids Immune System Naturally With Herbs
Description
How to boost kids immune system naturally with 6 amazing herbs that are safe and ideal for them. A healthy immune system equals happy and healthy children.
Author
Publisher Name
Publisher Logo