Welcome to Part 4, the final part of my introduction to Black Seed Oil and its remarkable health benefits. In Part 4, I will discuss Black Seed Oil side effects, what to look for when buying and how to take it.
Catch up on Part 1 here if you want to learn more about the historical use and the modern research and studies into it. 
Check out Part 2 here if you want to discover what this amazing plant does and how it works. 
Discover what the plant is good for in Part 3.

So, are there any side effects?
It isn't recommended during pregnancy.
Other than that, there are no side effects if taken moderately. Black Seed Oil is a very potent medicinal plant and it's best not to exceed the recommended dose of 3 teaspoons per day (adults). It is also recommended contacting your health care practitioner if you are taking other medications.
A common cause of adverse reactions with herbal supplements is taking too high a dose too quickly. Your body can only clear out toxins and congestion at a given rate and exceeding this rate causes you to feel unwell. Start on a low dose and slowly build up.
What To Look For Before Buying
Grown without harmful pesticides or chemicals

Virgin cold-pressed & slow method (to ensure it retains its potent and vital healing properties)

Chemical-free & additive-free

Stored in dark coloured glass to keep the temperature down, the light out and from going rancid.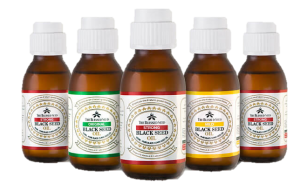 I've started to take this Black Seed Oil as it met all the criteria, plus it comes with a unique anti-spill pourer to avoid spillages/waste.
I rang the company up to ask about their farming and processing methods and spoke with their fully qualified medical herbalist. Although not all their products are certified organic, they are working to get their lands certified organic. They have confirmed that their products are grown without harmful pesticides or chemicals and this is rigorously tested for.
They do, however, offer this organic Black Seed Oil which meets all EU requirements for organic certification and the volatile content is typically 1.2% – this is recommended for children up to 8 years old, those who are very sensitive and those who suffer from severe allergies.
They offer three different strengths of Black Seed Oil. The strength lies in the content of volatile oil. Their oils vary from 1% (MILD) to 4.9% (STRONG) – their STRONG oil is the strongest Black Seed Oil available anywhere… in the world!
MILD – typically contains 1.2% volatile oil
ORIGINAL – typically contains between 1.5% – 1.7% volatile oil
STRONG – typically contains between 4.3% – 4.9% volatile oil (potentially 4-5 times more powerful than most oils on the market)
Most Black Seed Oil on the market contains somewhere between 0.3% and 1.2% of volatile oil!
Due to their high standards, constant analysis and stringent checks, they are so confident in their products that they offer a 1-year-no questions asked, money-back guarantee. They will pay for return postage – even if the bottle is empty!
I hope to write a future article on my health experiences of this product. From my research on this small yet powerful seed, I have high hopes that they will be positive!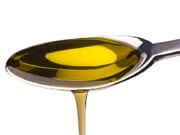 How To Take It?
I'm currently taking mine with a teaspoon of honey on an empty stomach, first thing in the morning. Double-remedy whammy!
It is also advised not to be heated as this action can damage the beneficial properties.

Have you used Black Seed Oil before? What did you take it for? Did it help? Were you aware of the vast amount of ailments it can help with? I hope you enjoyed the read and would love to hear your thoughts and comments on this. Peace be with you.
Teresa
Black Seed Oil Side Effects – Are There Any?
was last modified:
June 23rd, 2022
by
Summary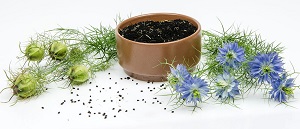 Article Name
Black Seed Oil Side Effects - Are There Any?
Description
"A Remedy For Every Illness Except Death" - Part 4 - Learn about Black Seed Oil side effects - are there any, what to look for when buying and how to take it.
Author
Publisher Name
Publisher Logo