Welcome to Part 2 of my introduction to Black Seed Oil and its amazing health benefits. In Part 2, I will look at what does Black Seed Oil do and how it works.
Catch up on Part 1 here if you want to learn more about the historical use and the modern research and studies into it.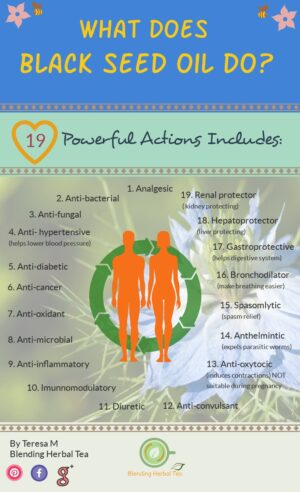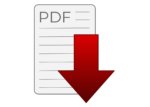 Black Seed has been extensively studied for its biological properties and therapeutic potential and has shown to perform a remarkable number of distinct pharmacological actions in the human body. It has such a wide and diverse range of activity and supports many biological areas that there isn't an organ or system in the body that is not affected positively by this powerful seed. Some of these actions include:
Diuretic

Anti-bacterial

Anti-fungal

Anti-hypertensive

Anti-diabetic

Anti-cancer

Anti-oxidant

Immunomodulatory

Analgesic (pain relief)

Anti-microbial

Anti-inflammatory

Anti-convulsant

Anti-oxytocic (induces contractions) – NOT SUITABLE DURING PREGNANCY!

Anthelmintics (expels parasitic worms)

Spasmolytic (spasm relief)

Bronchodilator (make breathing easier)

Gastroprotective

Hepatoprotective (liver protecting)

Renal protective (kidney protecting) [Source]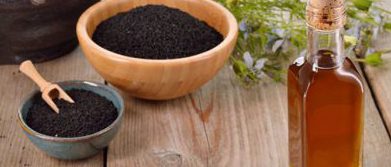 There is no other herb known to work with such a wide range of healing capabilities. The Black Seed and the oil derived from it is considered safe to take every day as a home remedy for boosting good health and preventing disease yet it is also powerful enough to treat almost all of the chronic diseases that is so prevalent in society today.
It is able to help in preventing disease from taking hold plus it can help you fight any existing disease you may already have. It is both prophylactic and curative.
It is also ideal for the first aid herbal kit – to calm minor burns, insect bites, stings, bruises, bumps, cuts and grazes.

Based on these factors, it has been considered by many health experts as "a true panacea" and "a miracle herb". Due to its 'miraculous' power of healing, Nigella sativa has been placed among the top-ranked evidence-based herbal medicines. [Source]
How Does It Work?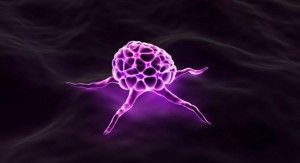 The nutritional profile of the Black Seed is quite staggering in its complexity. More than 100 different substances have been identified so far and it is likely that more will be discovered in future research.
The three key natural compounds present in Black Seed are Thymoquinone (TQ), Thymohydroquinone (THQ) and Thymol.
Most of the therapeutic compounds of this plant are mainly due to the presence of TQ which is the major bio active chemical component of the essential oil.
TQ has been the centre of many studies and it is renowned for its powerful antioxidant, anti-inflammatory and anti-cancer properties and has been reported to help in encephalomyelitis (inflammation of the brain and spinal cord), diabetes, asthma and carcinogenesis (cancer formation). [Source]
In the fight against the anti-fungal resistant problem, a study by The Egyptian Journal of Biochemistry and Molecular Biology conducted a study to test whether Nigella sativa could solve the issue. The results were very promising:
All three compounds showed 100% inhibition for the 30 different pathogens evaluated.

TQ was the best anti-fungal compound against all of the tested dermatophytes and yeasts, followed by THQ and Thymol.

Thymol was the best anti-fungal against moulds, followed by TQ and THQ.
Other important active compounds include: 
26 Fatty Acids in total – approximately 15% consists of 8 saturated fatty acids and 80% of 18 unsaturated fatty acids. The unsaturated fatty acids include linoleic acid (Omega-6); the two most essential Omega-3's – EPA and DHA, both of which are normally found in food products such as fatty fish (salmon, sardine, herring, mackerel) and nuts and seeds (chia, flax seed, walnut); and a form of Omega-3 called eicosapentaenoic acid (ETA), which is rarely found in food.
Production of Prostaglandin E1 – an important hormone-like substance that is one of the chemical regulators involved in inflammation, immune function and many other biological processes.
Nigellon – its main function is to support the respiratory system, so is good for disorders such as asthma and whooping cough.
Beta-Sisterol – known for lowering cholesterol levels and for its anti-tumour and anti-carcinogenic activity.
Saponin Melathin (anti-parasite) – contains strong cleaning properties and is used as a laxative to destroy parasites.
Vitamin B1 – essential for normal growth and development.
Vitamin B2 – required by the body to use oxygen and for the metabolism of amino acids, fatty acids, and carbohydrates.
Vitamin B3 – essential in the breakdown of fats and protein.
B – Carotene – is converted in Vitamin A (known for its anti-cancer activity).
Selenium – has antioxidant, anti-viral and anti-bacterial properties. It is believed to reduce the risk of cancer, prevent blood clots, and inhibit chromosome damage.
Arginine (or L-arginine) – a semi-essential amino acid, which is required for many metabolic processes.
15 Amino Acids – make up the protein content of the

Black Seed

, including all nine essential amino acids.
Calcium – for teeth, bones and muscles. Also for hormones and blood clotting.
Iron – used in the production of red blood cells and oxygen transportation.
Sodium – maintains fluid balance, nerve transmission and muscular contractions.
Potassium – is crucial for heart function.

What Does Black Seed Oil Do?
was last modified:
June 23rd, 2022
by
Summary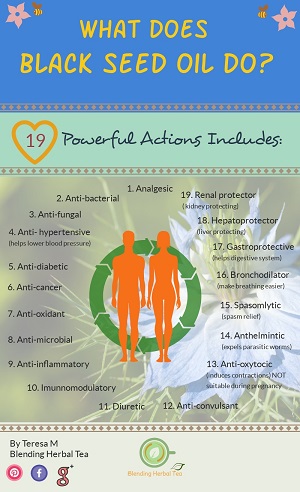 Article Name
What Does Black Seed Oil Do?
Description
"A Remedy For Every Illness Except Death" - Part 2- discover what does black seed oil do. It has such a diverse range of activity to positively affect the body.
Author
Publisher Name
Publisher Logo